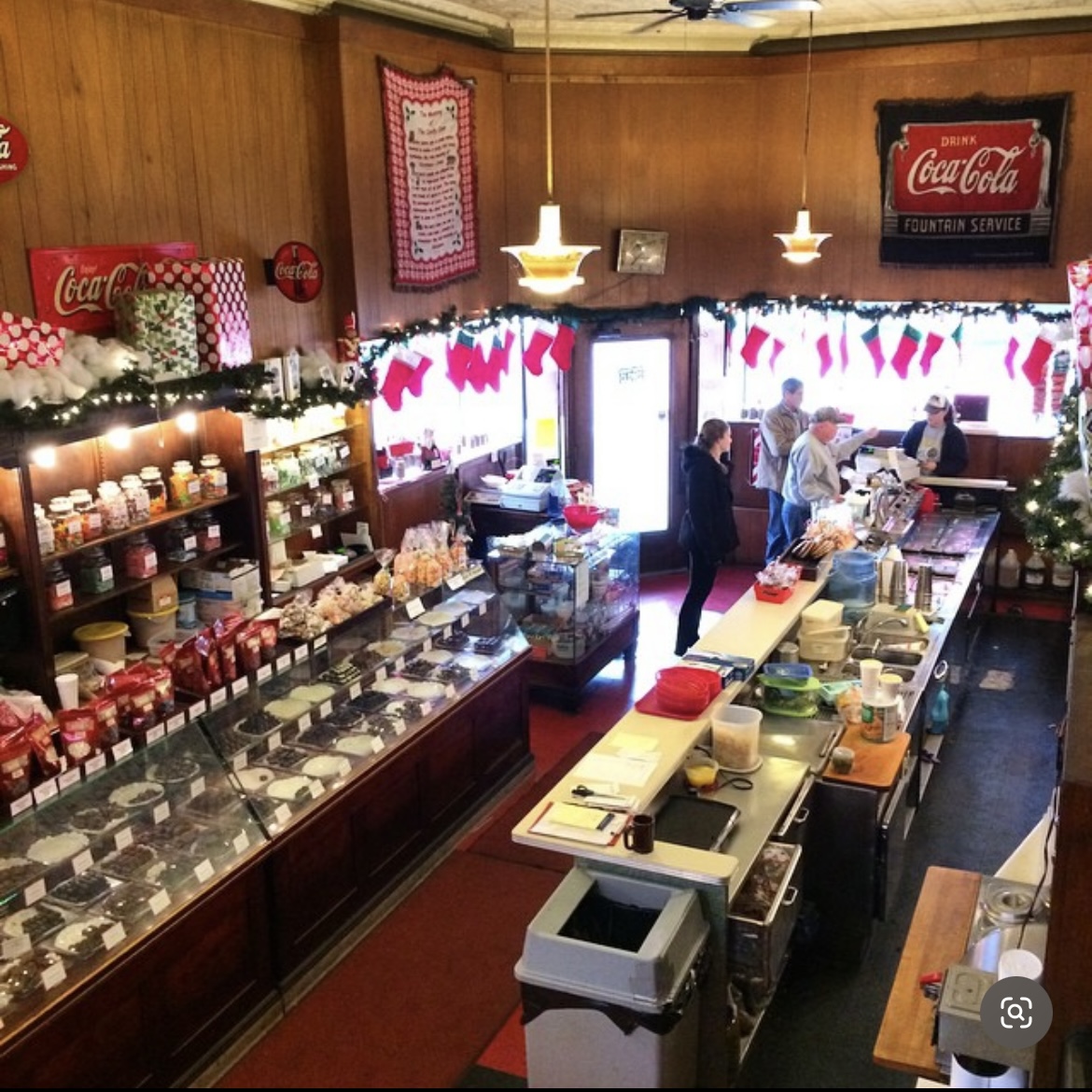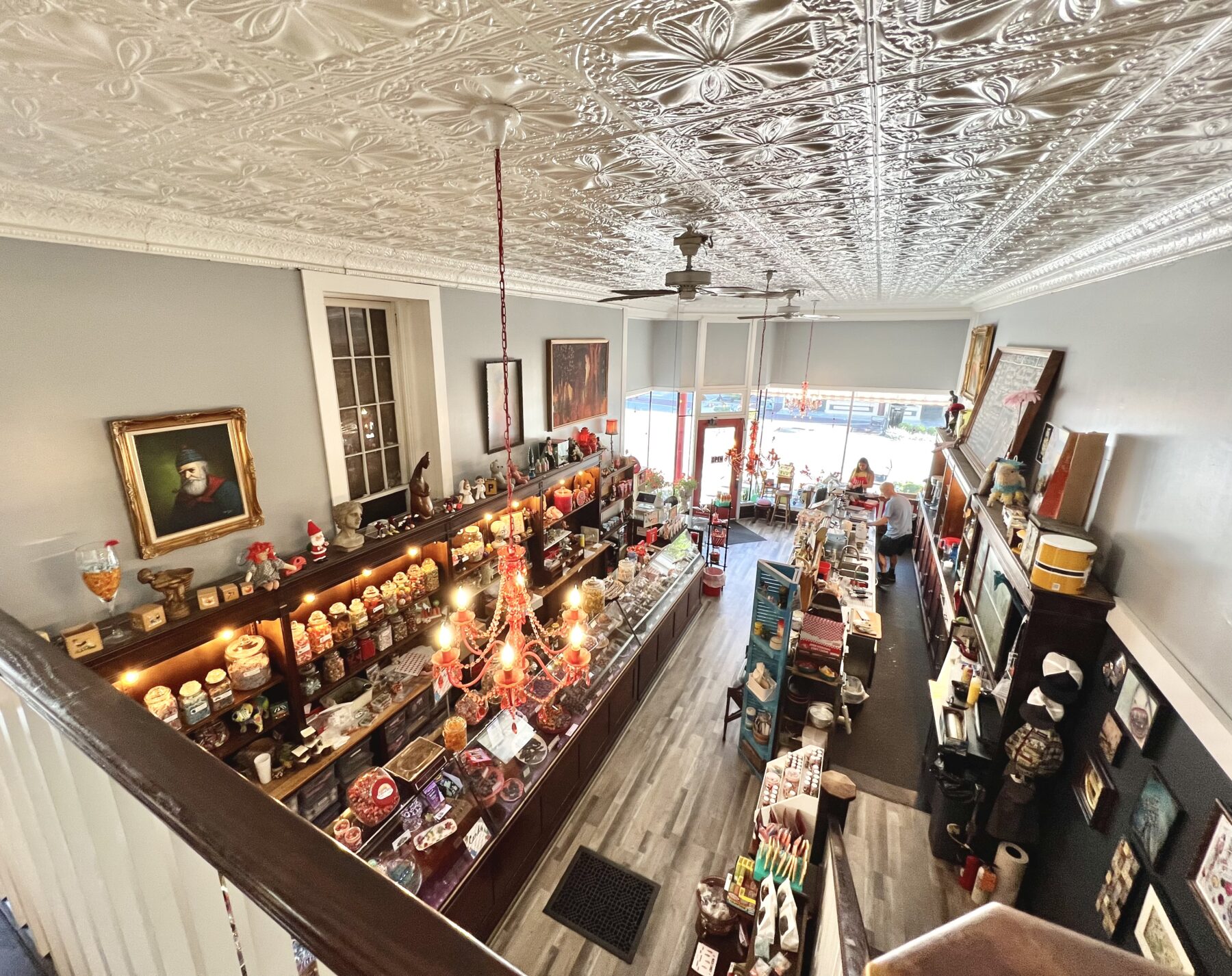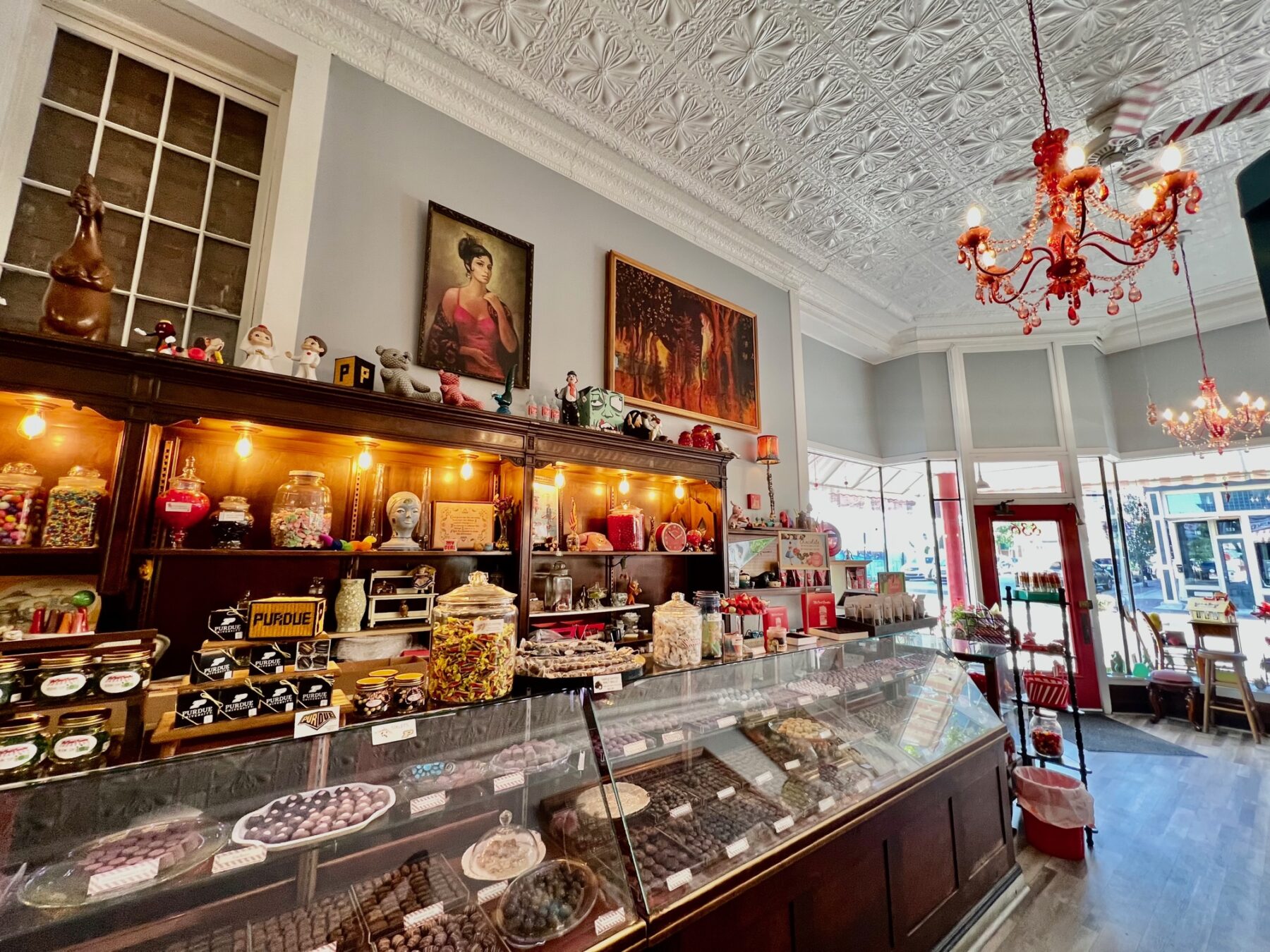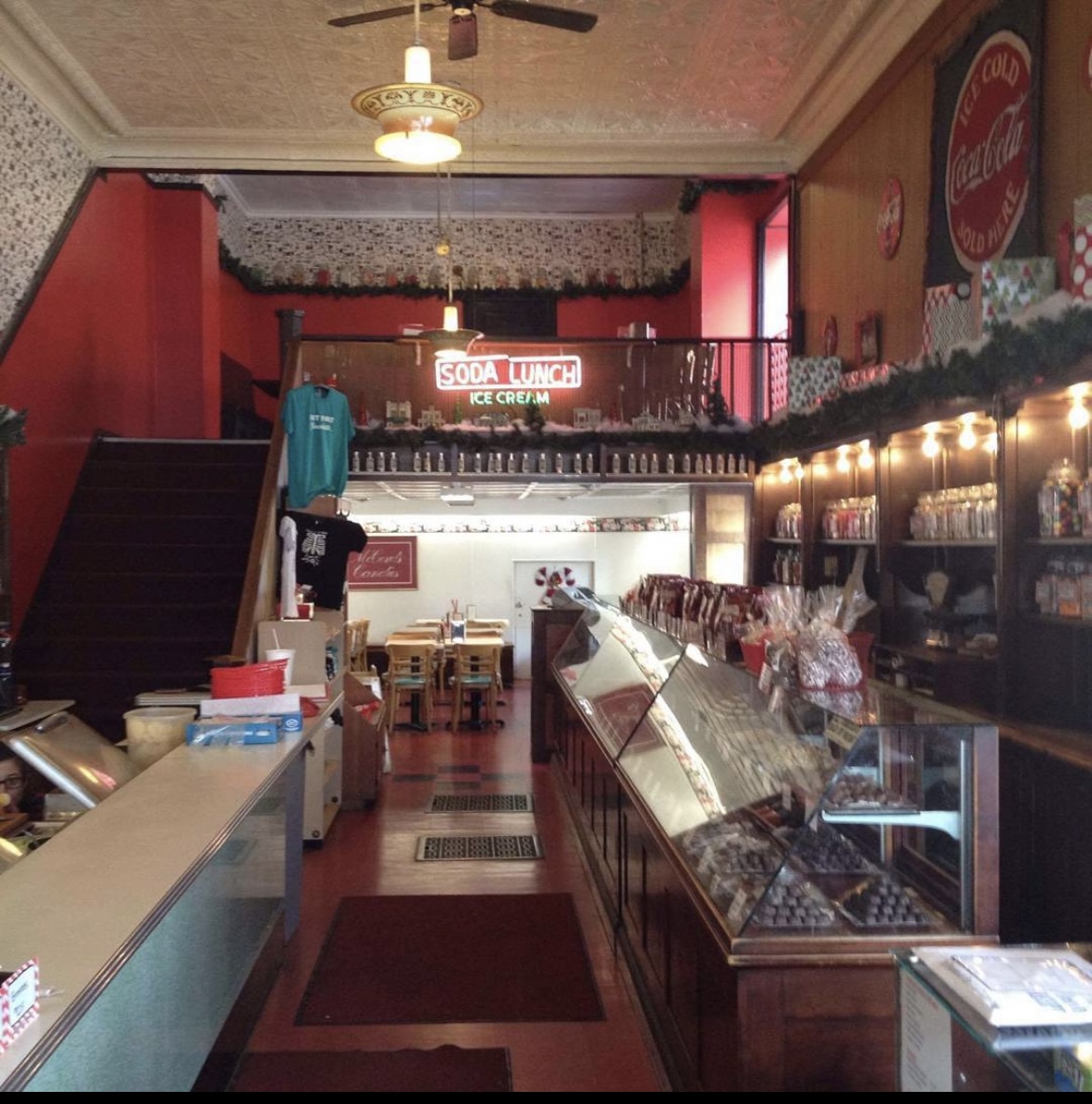 The Landmark
McCord Candies is located inside a Victorian era, beautiful piece of architecture at 536 Main Street in historical downtown Lafayette, Indiana. Originally constructed as a single family home, it has been a candy store and luncheonette since 1912. With its original ornate interior staircase and arched limestone entrance, the building's inspiration was a touch of Paris in the small yet bustling city of Lafayette, known as 'Indiana's Biggest Little City'. In April 1872, William Philpot Heath, a wealthy dry goods merchant, decided to turn the first floor of his home into the Indiana National Bank. Slowly the affluent residential home became a popular location on the growing downtown's Main Street. Opportunities for merchanting on one of Lafayette's busiest corners quickly changed the building's initial residential purpose. Since its construction, this historical piece of architecture has been a single-family home, a bank, a barber shop, a military surplus store and local market, a luncheonette and now famous candy store.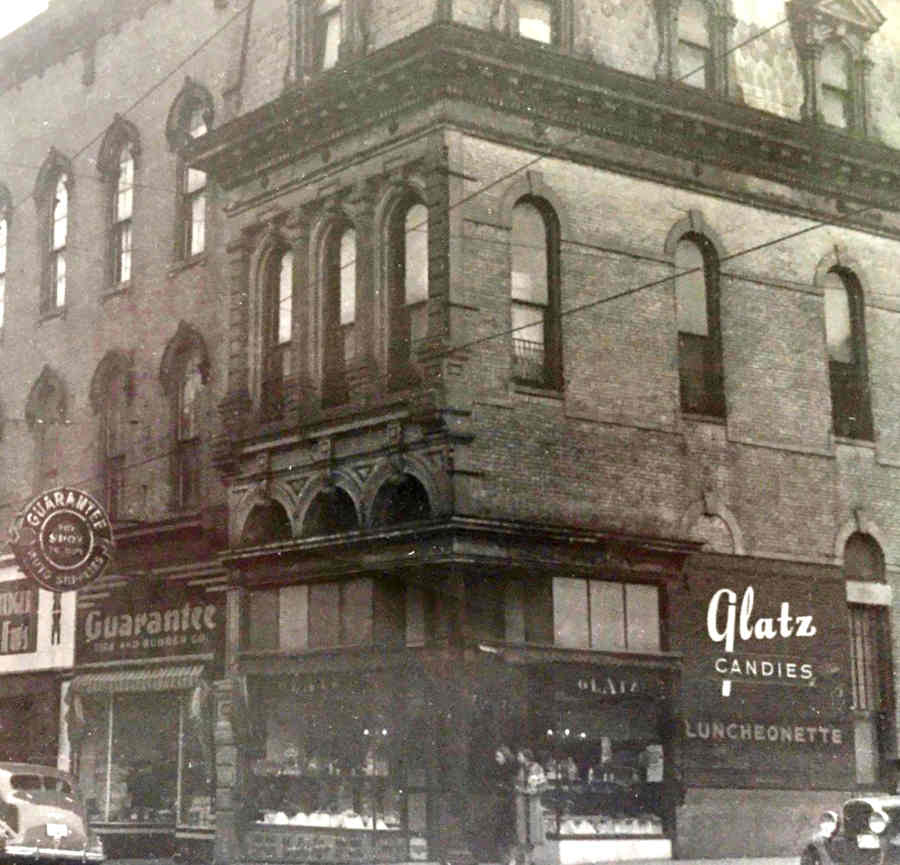 The Owner Origin
In October of 1912, Mr. and Mrs. Lee Glatz purchased the iconic building and turned it from selling military supplies to food and candy. Mr. Glatz was a popular businessman, with a serious sweet tooth and a dream to supply smiles instead of wartime goods and supplies. He named his store 'Glatz Candies' and it quickly became one of the most popular in town. Upon his death in 1928, his widow continued to operate the store but needed help to grow the business as she was not a candy maker. Mr. Ivy McCord had been working for the Glatz family since 1917, making candy and confections for Glatz Candies. Mr. McCord and Mrs. Glatz were very close friends, so it was only natural for her to elevate Ivy's position. She asked Mr. Ivy McCord if he would like to become an official business partner and help her to operate the store.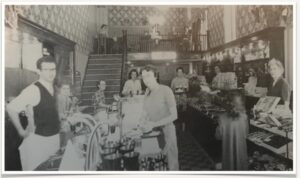 In 1947, Ivy McCord purchased the store as it became more difficult for Mrs. Glatz to maintain it. Ivy changed the store to its now legendary name, McCord Candies. The McCord family grew its downtown corner candy store into a place where sodas and lunches were served to the Lafayette Community. McCord Candies quickly became a Lafayette staple and was the reason for this downtown corner to be named 'the sweetest corner in town'. In the beginning of their ownership, the McCord family focused on sweets and candies but they soon recognized a growing demand for a downtown lunch spot to cater to increasing business patrons. So, in the early '50s, they incorporated the now iconic soda fountain and lunch counter that is still here today! Ivy McCord and his family had owned and operated McCord Candies until 1975, and their legacy lives on in the generations of memories, traditions and happiness that it still brings to the Lafayette community.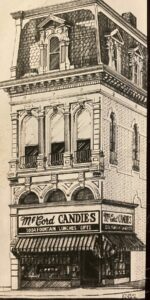 McCord Candies, Today
Multiple owners have been a part of McCord Candies and it's story in our community. For each, there have been successes and there have been challenges and, most of all, memorable connection to this iconic establishment. Operating this multi-faceted store is not for the faint of heart, but it is for the kid at heart! Since making our ownership official on June 1 2022, we have seen firsthand that the very foundation of this store is built on deep-seeded tradition. Our joy, our mission, as owners of McCord Candies is to cultivate a culture of love, happiness and joyful memory making in the experience of McCord Candies. When the world can be a less than happy place, we want our place to be a trip down memory lane or a getaway from the stuff outside; and, most of all, a place to make new memories! We have been blessed to carry on a legacy and it is our honor to continue the tradition of this beloved candy store. For more than 110 years, Lafayette has loved McCord Candies and it is truly a dream come true for us to have 'adopted' the McCord Candies' family name and to now be a part of its history, and its future. We're Lafayette natives and have been coming to McCord Candies since we were kids too…we even put our daughters' favorite drinks on the menu! McCord Candies has already become our home away from home (quite literally 😉 and we promise our community and our Lafayette/West Lafayette guests that we will do our very best to not only keep its traditions alive but to also give you and your family a vintage candy store experience that you will remember too. We hope that you will come visit us and, if you're in the neighborhood at Christmas time, stop in for our famous hand-pulled candy canes, a tradition for the whole family! We look forward to seeing you and yours!
With love and sweet blessings, Billie and Angie Pattengale