Continuing the Sweet Tradition
The Building
According to earlier publications of the Lafayette Leader, 536 Main Street "was originally constructed, at the height of the Second Empire style's popularity, as a home, which explains its magnificent interior staircases and original arched limestone entrance that rose several steps above street level. A touch of Paris is evident in the building with its attractive windows…" In April 1872, William Philpot Heath, a wealthy dry goods merchant, opened Indiana National Bank on the street level portion of the now candy store. Our magnificent building has hosted several other business types including a barber shop and a millinery shop.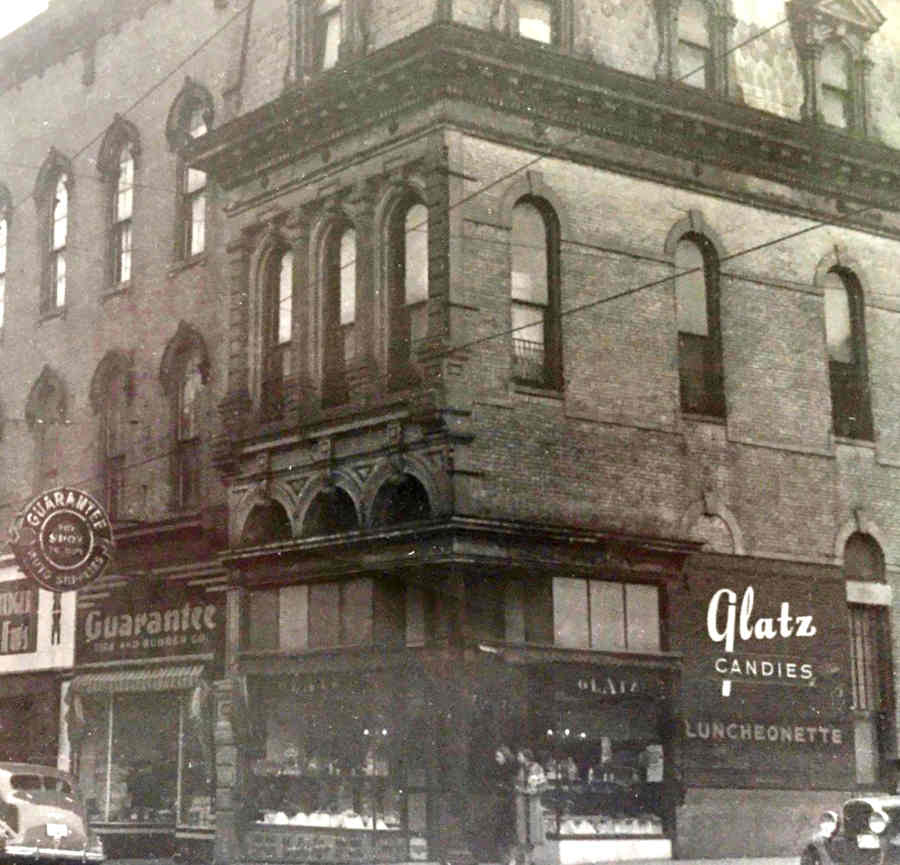 "When Mr. and Mrs. Glatz leased it, the first floor was up a flight of stairs, and on the ground floor was a barber shop; above it was a millinery shop. The Glatz's remodeled the store, bringing the main floor down to street level." Street levels were changed in the early 1900's after regular flooding of the (now underground) Pearl River, which also meant changing store entrances and access to the basements – for coal, then oil, and for deliveries and supplies. When all this happened, they lowered the first floor of the candy store so as to be on street level; this also then reduced half the basement to its present crawl space.
Downtown Lafayette was so attractive back then because "the churches and stores were all in close proximity; everyone rode the streetcars; and the store was open seven days a week, from 8:00 in the morning until 10:00 or 11:00 at night because of all the theaters downtown and streetcar availability."
Previous Owners
Mr. and Mrs. Lee Glatz established the business October 1, 1912. Mr. Glatz was one of the city's most popular businessmen, who died unexpectedly August 8, 1928. His widow continued to operate the establishment with its original copper kettles, wooden paddles, and cooling tables that originally served as blackboards at the old Jefferson High School.
Ivey McCord started working for the Glatz's, in 1917, as their cook. As Mrs. Glatz began to tire, McCord offered to buy the establishment. So, in 1947, the candy store's name was changed to McCord Candies. McCord worked at the store from 1917 to 1975, when he could no longer climb the stairs due to a stroke. A quote by his daughter, "Dad ate a lot of candy and always had an ice-cream sundae after every meal; he was pretty good size for a number of years."
As reported in the September 27, 1984 edition of the Lafayette Leader, McCord Candies was sold by son Jack and Genevieve McCord, to Bob and Judi Spitalniak of Frankfort.
According to a December 1, 1988 Journal & Courier newspaper article, the store changed hands again in July of '88, when Dave and Linda Steckler supposedly purchased it. There is no evidence at this point that they ever really took ownership of the store.
We know that in April of 1988, Louise and Larry Knoy purchased the business and sold it to Tom and Rita Quatrocchi. Tom and Rita loved McCord's and owned it until 2005.
Mike and Melissa Becker purchased the business in the summer of 2005. In 2017, Mike Becker was done and ready to part with the historic and beloved candy shop.
McCord's Today
June 7, 2017…now the fun begins! Well. The work begins!
After years of neglect, I thought it would be a good idea to "rescue" McCord Candies and "save it" for the community. I spent hours and hours cleaning, improving, upgrading and painting this fabulous place. I quickly learned how to make the candies, syrups, salads and soups that people expect from us. I also learned that there are a lot of steps to get to the kitchen…39 to be exact!
I have met great-grandparents that have shared childhood stories about visiting Glatz Candies when they were younger. I have even met some Glatz family members who shared wonderful stories with me.
I want to add that the most magical thing we do here at McCord Candies is that we make candy canes! Thousands and thousands of candy canes! We still make them with the same old recipe and pull them the same way that's always been done here. We have literally shipped canes all over the world! This part of the business is so mind-blowing and exciting!
If you get the chance, stop by for an old-fashion soda! We will greet you like family and make you feel welcome!
Sweetly,
Denise (and Ken) Bootsma